Voit Indoor Soccer Ball
Serving Kansas City & the Continental United States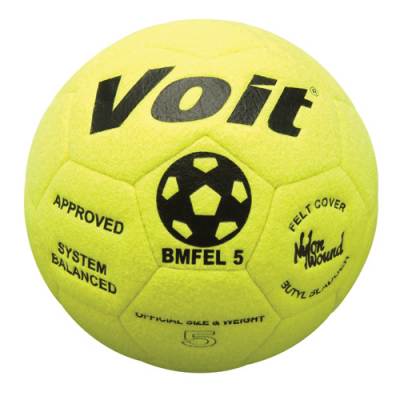 Features & Specs
Voit Indoor Soccer Ball Specs:




Voit Indoor Soccer Ball Features:

Uses: Indoor Soccer Practice and Games
Material: Nylon-Wound and Molded Felt Cover Design
Includes Butyl Bladder for Higher Air Retention
Features Bright Yellow Color
Features Soft Kick Feel
Includes 1-Year Warranty


Voit Indoor Soccer Ball Details
The Voit Indoor Soccer Ball, available through GameTime Athletics, a trusted authorized dealer for Voit products, is a stellar choice for indoor soccer enthusiasts. Renowned for its exceptional quality, balance, and performance, this soccer ball is designed to elevate the indoor soccer experience.
Available in both sizes 4 and 5, the Voit Indoor Soccer Ball ensures compatibility with different age groups and skill levels, catering to juniors and adults alike. Its vibrant bright yellow color adds a dash of excitement to every match, making it easy to track and enhances visibility in indoor settings.
Crafted with precision and innovation, this soccer ball boasts excellent durability and responsiveness on indoor surfaces. The ball's nylon-wound and molded felt cover construction guarantees consistent flight and bounce, enabling players to execute accurate passes, powerful shots, and controlled dribbles with confidence. Whether used in competitive matches, practice sessions, or recreational games, the Voit Indoor Soccer Ball proves to be a reliable companion that enhances players' skills and enjoyment of the sport.
SOCCER PLAYERS AND COACHES CHOOSE GAMETIME ATHLETICS FOR EQUIPMENT
As an authorized dealer for Voit, GameTime Athletics offers customers the assurance of genuine products and top-notch customer service. The Voit Indoor Soccer Ball stands as a testament to our commitment to delivering quality equipment tailored to the needs of passionate soccer players and coaches.
To order or to receive a dealer direct pricing quote, simply click the "Add to Quote" button above and our team will respond to your inquiry within 24 business hours. We, at GameTime Athletics, look forward to outfitting your soccer club with all the essential items a team needs to succeed in soccer.
Dealer Direct Lowest Pricing
24 Hour Weekly Response Time
FREE Shipping!
You may add this item along with other products before proceeding to your free quote.