Wilson A1010BPROSST NFHS
Serving Kansas City & the Continental United States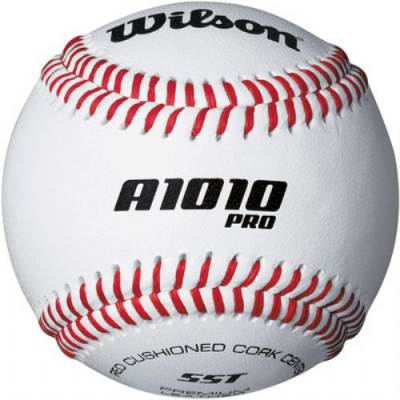 Features & Specs
Wilson A1010BPROSST NFHS Baseball Specs:

Weight: 4.3 lbs.
Circumference: 9 in.




Wilson A1010BRPOSST NFHS Baseball Features:

NFHS and NOCSAE Approved Baseball
Ages: High School Leagues
Includes 1 Year Product Warranty
Material: Full Grain Leather Cover
Color: White with Red Stitching and Black Lettering
Features DuraCore Technology and Cushioned Cork Core
Features Wool Windings to Help Ball Retain Shape
Features Super Seam Technology for Ball Control
Quantity: 1 Dozen












Wilson A1010BPROSST NFHS Details
Wilson's A1010BPROSST NFHS Baseballs stand as a testament to quality and precision in the world of baseball equipment. As an authorized nationwide distributor for Wilson, GameTime Athletics ensures that teams and baseball players across the country have access to these top-of-the-line baseballs.
The A1010BPROSST NFHS Baseballs are crafted with utmost attention to detail, featuring a premium full-grain leather cover that delivers an exceptional feel and grip. Pitchers can command their throws with accuracy by utilizing the built-in Super Seam technology, while batters can swing away thanks to the flat seams which help minimize resistance, increasing distance of these baseballs when struck.
One of the highlights of the A1010BPROSST NFHS Baseballs is their adherence to both NFHS (National Federation of State High School Associations) and NOCSAE (National Operating Committee on Standards for Athletic Equipment) standards. This dual approval ensures that the baseballs meet stringent safety requirements, prioritizing the well-being of players on the field.
GAMETIME ATHLETICS OUTFITS BASEBALL PLAYERS OF ALL AGES
GameTime Athletics takes immense pride in being an authorized nationwide distributor for Wilson, making it seamless for schools, leagues, and organizations to acquire the A1010BPROSST NFHS Baseballs. Elevate your game with the reliability and performance of Wilson's premium baseballs and experience the true essence of America's favorite pastime.

To receive a dealer direct pricing quote, simply click on the number of balls you need (they come in dozens) and one of our team specialists will respond to your inquiry quickly. We, at GameTime Athletics, look forward to working with you!
Dealer Direct Lowest Pricing
24 Hour Weekly Response Time
FREE Shipping!
You may add this item along with other products before proceeding to your free quote.