SV-5W Gold Volleyball
Serving Kansas City & the Continental United States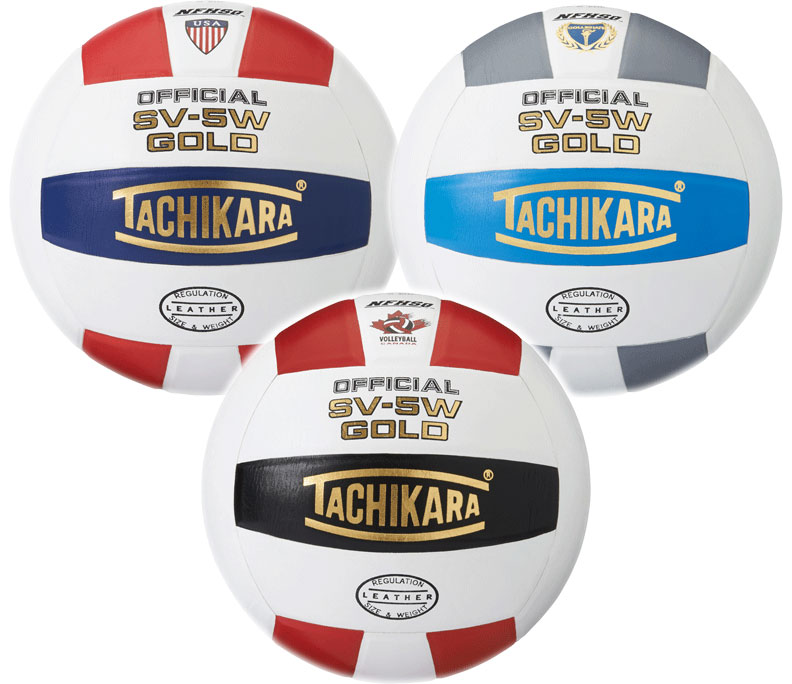 Features & Specs
Tachikara SV-5W Gold Competition Volleyball Specs:

Circumference: 25.6" - 26.4"
Weight: 9.1 - 9.8 oz.



Tachikara SV-5W Gold Competition Volleyball Features:

Meets NFHS Specifications
Uses: Competitive Indoor Competition Approved
Material: Premium U.S. Leather
Construction: Woven Cotton Reinforced Panels
Butyl Quad Carbon, Isomer Bladder
Patented Dual Bladder Construction
Superior Ball Flight, Control, & Performance
1-Year Warranty



Tachikara SV-5W Gold Competition Volleyball Colors:

Scarlet Red, Navy Blue & White
Grey, Blue & White
Scarlet Red, Black & White









SV-5W Gold Volleyball Details
The Tachikara SV-5W Gold Competition Premium Leather Volleyball, available through GameTime Athletics, stands as a pinnacle of excellence for indoor competitive play. Crafted with utmost precision and using high-quality materials, this volleyball is a testament to Tachikara's commitment to producing top-notch sports equipment.
Approved by the National Federation of State High School Associations (NFHS), the SV-5W Gold meets the stringent standards required for official competition. Its exceptional quality and performance make it the preferred choice for athletes and teams participating in high school volleyball tournaments across the nation.
One of the key features of the SV-5W Gold is its premium leather construction. The carefully selected, genuine leather cover ensures durability and superior ball control. The excellent grip allows players to execute precise serves, powerful spikes, and accurate sets with confidence, enhancing their overall performance on the court.
Tachikara has meticulously designed the SV-5W Gold to possess the optimal weight and size, ensuring a consistent and reliable flight pattern. Its well-balanced design contributes to smoother gameplay and enhanced accuracy during intense rallies.
GAMETIME ATHLETICS - SERVING PREMIUM VOLLEYBALL EQUIPMENT SINCE 2000
As a Tachikara-approved nationwide sports equipment distributor, GameTime Athletics offers this exceptional volleyball to athletes, coaches, and enthusiasts who demand nothing less than excellence. Whether you're a seasoned professional or a dedicated high school player, the Tachikara SV-5W Gold Competition Premium Leather Volleyball is the perfect companion for competitive indoor play, providing unrivaled quality, performance, and reliability.
To learn more
about GameTime
or to see some of our
recent projects,
click on the provided links. If you'd like to ask our team questions about the Tachikara SV-5W Competition Gold Volleyballs or any other related volleyball equipment, call us at 877-891-2476 or
message us privately here
.
If you'd like to receive a tailored quote, complete with up-to-date dealer direct pricing, simply click the "Add to Quote" button above and one of our specialists will promptly respond within the next 24 business hours. We look forward to providing you with everything needed to make your competitive volleyball teams needs a success.
Dealer Direct Lowest Pricing
24 Hour Weekly Response Time
FREE Shipping!
You may add this item along with other products before proceeding to your free quote.