MacGregor Rubber Football
Serving Kansas City & the Continental United States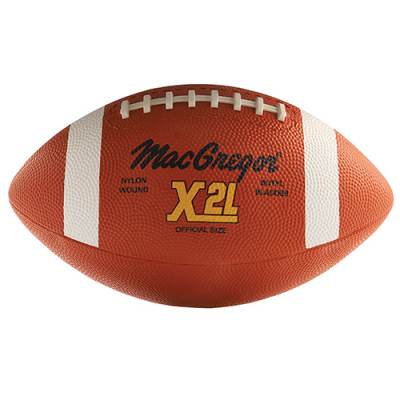 Features & Specs
MacGregor Rubber Football Specs:

Football Size Options
Official, Ages 14+
Youth, Ages 12 - 14
Junior, Ages 9 - 12



MacGregor Rubber Football Features:

Uses: Football, Physical Education and Recreation
Color: Brown and White
Material: Nylon-Wound Rubber Construction
Includes Raised Molded Laces for Exceptional Feel
Includes a Butyl Bladder to Retain Air and Performance
Features Pebble-Grain Exterior Construction
Available in Official, Youth and Junior Sizes
Features All Weather Design for Indoor or Outdoor Use
Includes a 1-Year Warranty


MacGregor Rubber Football Details
GameTime Athletics, an authorized nationwide MacGregor outfitter, proudly presents MacGregor Rubber Footballs, a excellent addition to the MacGregor line of sports equipment. These footballs are engineered to offer exceptional performance and durability, making them an ideal choice for various settings, including physical education departments, recreation centers, recreational at-home play, and youth football sports programs.
Crafted with precision, MacGregor Rubber Footballs feature raised laces and a nylon-wound rubber construction. This design ensures a firm grip and excellent handling, enhancing the overall football experience. Whether used indoors or outdoors, these footballs are built to withstand the rigors of play, making them suitable for a wide range of environments for years to come.
The MacGregor Rubber Footballs are available in three sizes: official for ages 14+, youth for ages 12-14, and junior for ages 9-12. This versatility means that individuals of all ages and skill levels can enjoy the benefits of these quality footballs, fostering a love for the sport from an early age.
GAMETIME ATHLETICS - KEEPING ATHLETES IN THE GAME SINCE 2000
No matter your athletic ability or age, MacGregor Rubber Footballs are a safe and reliable choice. They are built to last, capable of providing years of durable play, and are an excellent investment for anyone looking to enjoy football with friends, family, or in organized sports leagues.
GameTime Athletics, a sports equipment dealer for some of the top sports name brands in the world, has been supplying coaches, players, and athletic departments withthe gear they need to plan, prepare, and play the game since 2000. Whether you are in a
physical education department
, a
school district
, a
parks and recreation league
, or a
youth sports program
, if it's in the game, it's at GameTime!
To receive a dealer direct pricing quote or to order, simply click the number of balls you need and the "Add to Quote" button above. One of our team specialists will quickly respond, within 24 business hours, to your inquiry. We look forward to supplying your team with all they need to be successful on the field!
Dealer Direct Lowest Pricing
24 Hour Weekly Response Time
FREE Shipping!
You may add this item along with other products before proceeding to your free quote.