Spalding TF-5000 Soccer Ball
Serving Kansas City & the Continental United States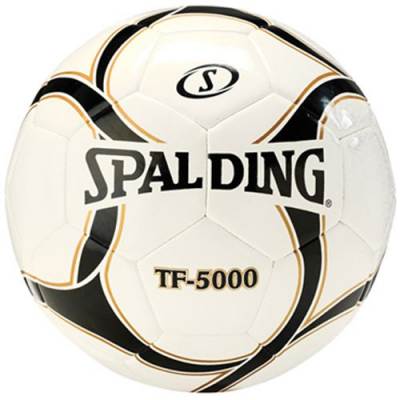 Features & Specs
Spalding TF-5000 Soccer Ball Specs: Spalding TF-5000 Soccer Ball Features:

NFHS Approved Competition Soccer Ball
Color: White and Black
Material: High Performance PU Cover
Features Hand Stitched Design
Features Latex Rubber Bladder for Air Retention
Offers Superb Foot Feel, Balance, and Durability
Includes 1-Year Warranty


Spalding TF-5000 Soccer Ball Details
Unleash your soccer potential with the Spalding TF-5000 Competition Soccer Ball, an epitome of precision and excellence, available through GameTime Athletics. As a nationwide approved dealer of premium athletic equipment and field maintenance solutions, GameTime Athletics is your trusted source for top-tier sports equipment.
The Spalding TF-5000 Competition Soccer Ball is a testament to Spalding's commitment to quality craftsmanship. Meticulously designed and hand stitched, this ball delivers exceptional performance on the field, allowing players to showcase their skills with unparalleled accuracy and control whether they are in a game or practicing. Its innovative construction ensures consistent flight and optimal responsiveness, making it a go-to choice for serious players.
A key feature of the Spalding TF-5000 is its prestigious NFHS approval. Backed by the National Federation of State High School Associations, this approval certifies that the ball meets the stringent criteria required for official high school soccer matches. With GameTime Athletics as your provider, you can trust in the authenticity and quality of each Spalding TF-5000 Competition Soccer Ball.
Available in a size 5 ball, the Spalding TF-5000 is designed to cater to players seeking optimal handling and playability. Designed with a PU composite cover and a latex rubber bladder, the TF-5000 ball provides optimal feel with a touch of softness and is offered with a 1-Year warranty.
GAMETIME ATHLETICS IS YOUR GO TO SOCCER EQUIPMENT OUTFITTER
As an authorized dealer for Spalding, GameTime Athletics ensures that any product we offer, including the Spalding TF-5000, meets our customers' needs with a special seal of approval. Since 2000, GameTime Athletics has provided coaches, players, and athletic departments with everything they need to prepare a field and play soccer.
If you'd like to receive a pricing quote, complete with dealer direct pricing, or to order, simply click the "Add to Quote" button above and one of our team specialists will respond to your inquiry within 24 business hours. We, at GameTime Athletics, look forward to providing your team everything they need to play the game effectively and safely.
Dealer Direct Lowest Pricing
24 Hour Weekly Response Time
FREE Shipping!
You may add this item along with other products before proceeding to your free quote.