MacGregor Rubber Soccer Ball
Serving Kansas City & the Continental United States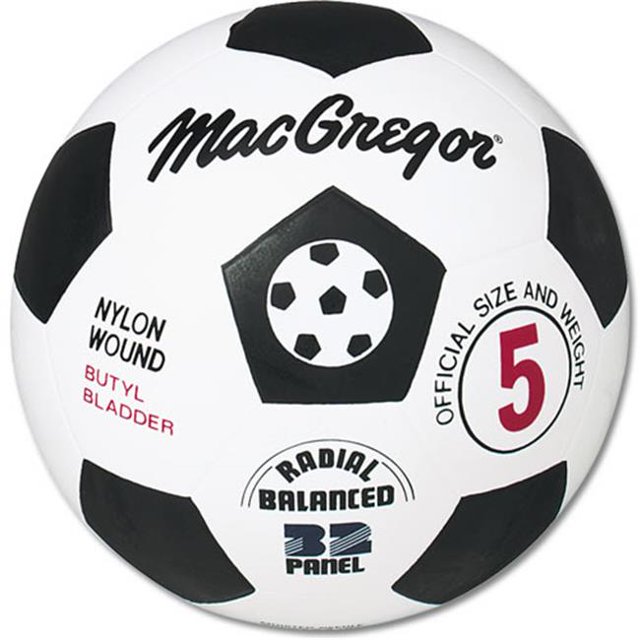 Features & Specs
MacGregor Rubber Soccer Ball Specs:

Size Options:

Size: 3

Size: 4

Size: 5


MacGregor Rubber Soccer Ball Features:

Uses: Indoor and Outdoor Soccer
Material: Molded 32 Panel Rubber Construction
Color: Black and White
Features Nylon-Wound Butyl Bladder
Features Water-Proof Design
Includes a Radial Balanced Design


MacGregor Rubber Soccer Ball Details
GameTime Athletics, a nationwide approved dealer of MacGregor products, introduces the MacGregor Rubber Soccer Ball, a versatile and dependable choice for soccer enthusiasts of all ages and abilities. With a reputation for excellence, MacGregor delivers a soccer ball designed to elevate the game, ensuring players, athletic departments, and physical education programs the ability to enjoy exceptional performance and durability.
Available in sizes 3, 4, and 5, the MacGregor Rubber Soccer Ball accommodates a wide range of players. Its various sizes allow players to choose the perfect fit for their age and skill level, enhancing their experience on the field without spending top dollar for your more expensive balls.
One of the standout features of the MacGregor Rubber Soccer Ball is its adaptability to different playing environments. Designed for both indoor and outdoor use, this ball is suitable for various surfaces, making it a versatile companion for training sessions, friendly matches, and competitive games.
Constructed with a molded rubber design and a nylon-wound butyl bladder, the MacGregor Rubber Soccer Ball retains its shape, and allows for a more consistent roll on a pitch, concrete, or asphalt playing surface.
SUPPLYING SOCCER PROGRAMS SINCE 2000 - GAMETIME ATHLETICS
As an authorized distributor for MacGregor, GameTime Athletics is proud to represent the MacGregor name. Since opening our own doors in 2000, GameTime has been driven to outfit players, coaches, and athletic departments with premier athletic equipment like those represented in the historic MacGregor product name.
To order or to receive a customized quote, simply click the "Add to Quote" button above and one of our team representatives will respond to your inquiry within 24 business hours. From our entire team to yours, we look forward to helping supply your soccer clubs with the best gear possible!
Dealer Direct Lowest Pricing
24 Hour Weekly Response Time
FREE Shipping!
You may add this item along with other products before proceeding to your free quote.